We recorded a Trailer for Science Chatter Ruhr
Nicolas, Peter and Theresa met to tell you about their plans: in their upcoming workshop they want to help PhD students and Postdocs to create and publish their first podcast episodes about their Materials Science research in the Ruhr area.
Wednesday morning – 9:30am. I hear Nicolas and Peter as they talk to each other while they walk towards me on the third floor of the NETZ building in Duisburg. "What's that?" says Nicolas as they pass by an empty office in which I already prepared my headset. "Our recording room", I said and smiled.
For none of us podcasting is the main job, we try to find time for it around our work schedules. So it did not come as a surprise that no one of us prepared a detailed plan about what we would do today. Well, the idea was to record a trailer for the podcast workshop we will be offering in about a month from now. However, we quickly realized that we still have not even agreed on a name for the podcast.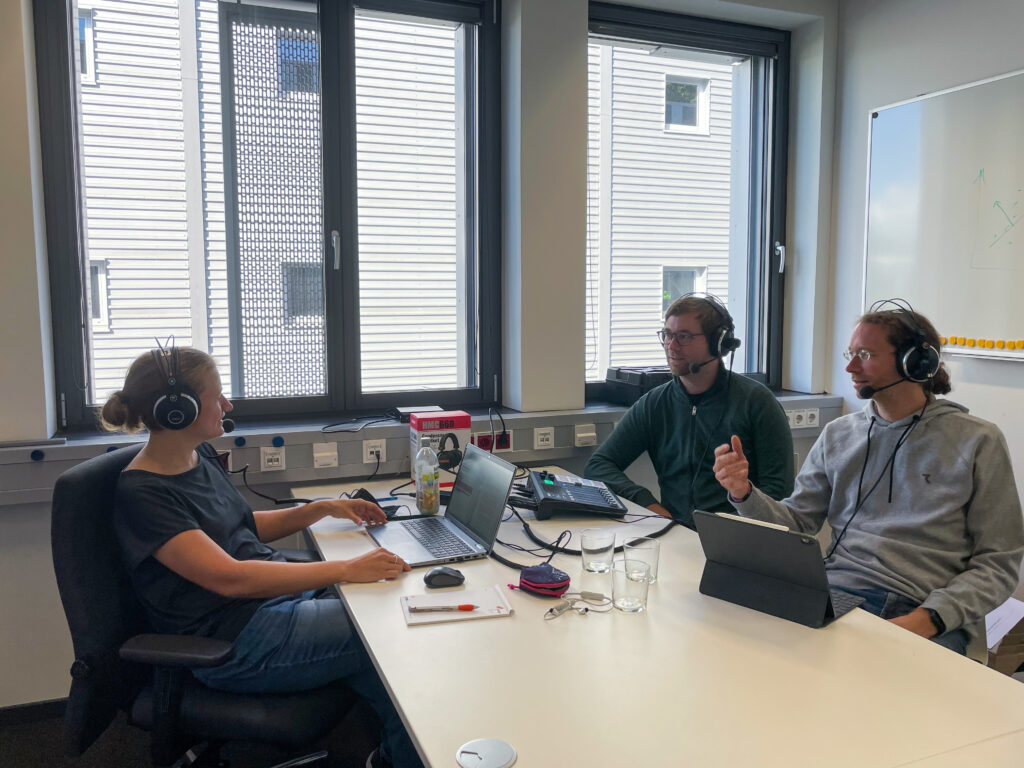 "So that Science Chatter Project you started in Hamburg with Michael", Nicolas asked, "do you wanna expand that?" – "Well, good question. I think it would be really cool if it could grow to become a larger project or community". I quickly rang Michael to check if he agrees – and since he did, this morning marked the birth of Science Chatter Ruhr.
We briefly agreed on what we want to talk about: Introduction round, Nicolas on Science Communication, Peter on Podcasts, me about our workshop plans. Then Peter pressed the recording button. And I swear, we didn't even plan at all to say "Science Chatter Ruhr" so simultaneously. ?